Posted by Superhairpieces on Nov 03, 2021
One of the biggest annoyances with a hair replacement system is when all the hair gets tangled up which means more time spent in the bathroom trying to detangle it. However, if not done correctly, this will only worsen the condition of your hair system and potentially lower its lifespan. To learn how to detangle your hair system correctly, keep on reading.
Easiest and quickest way to detangle hair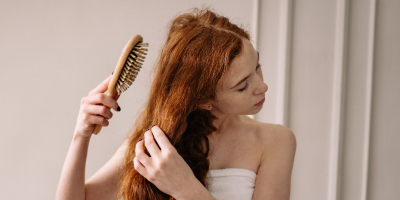 When your natural hair is tangled up, it's annoying enough, but it's even more so the case when it's your hair system where any damage can't be repaired or regrown.
For the easiest way of detangling your locks while you're wearing them, all you need to do is wet your entire head and brush your hair in the same direction. You can start from the front and brush it back, but make sure to comb through every section of hair. The moisture from the water will reduce the friction when you're actually washing your hair. If you have long or longer hair, you can start from the ends and work your way to the roots.
Once that's done, it's time to apply your wig shampoo. If you're still having plenty of tangles, one tip is to dilute the shampoo with some water to make the application easier and less painful. You will need a wide-toothed comb next to comb through your hair while shampooing. It's important to do this step while applying the shampoo as it prevents any further strands of hair from getting tangled up. Sooner or later, your hair should be tangle-free. You can also choose to apply wig conditioner to keep your hair looking healthy and shiny.
Complex method to detangle hair
If you find that the previous method doesn't work, you might have some serious tangling in your hair system. However, all is not lost yet. There is a more professional method of detangling your hair, but this should only be used as a last resort as this method can decrease the overall lifespan of your hair system.
You will need the following supplies for this method:
A large sink or vessel that can hold a gallon of water
Bleach
Ammonia
Measuring container
Wide-toothed comb or vent brush
Wig shampoo
Gloves
Towel
Before you begin this process, it's important that your base is free of any adhesive or solvent residue.
How to get glue residue out of your hair system
You should also wear gloves to protect your hands from any of the chemicals being used.
Disclaimer: The following information is only to serve as a guide for detangling your hair system. Superhairpieces does not assume any responsibility for any skin reactions, injuries or medical issues caused as a result of following this method.
Fill your sink (with the plug drained) or vessel with a gallon of hot water. To get the exact measurement, you can fill a gallon container and empty it into the sink or vessel.


Mix a quarter cup of bleach into the hot water. Use a measuring container to get the exact measurements.


Place your hair system with the outer side of the base facing up into the mixture for two minutes. It's important to not let it remain in the mixture for more than two minutes so make sure you're using a stopwatch or alarm.


While the hair system is submerged, use your comb to gently comb out the tangles while holding on to the base. It might be a challenge at first, but the mixture should eventually allow the tangled up hair to be combed and straightened.


Once the two minutes are up, remove the hair system and keep it aside. Drain the bleach mixture and rinse the hair system with warm or lukewarm water. Comb the hair while during the rinsing process.


Important: Clean the sink or vessel which had the bleach mixture thoroughly. There should not be any hint of bleach as we will be using ammonia next. Bleach mixed with ammonia can release a toxic chloramine gas which can be deadly.


Once the bleach is washed off, repeat the steps of filling your sink or vessel with a gallon of hot water.


Mix a quarter cup of ammonia into the mixture and for two minutes again, set the hair system into the mixture and gently comb through the hair. You should have more success in detangling the hair now.


Once two minutes have passed, keep your hair system aside and drain the ammonia mixture. Rinse the hair system one last time with warm water and once again, comb the hair while doing so.


Clean the sink or vessel thoroughly so that all traces of ammonia are gone.


Now it's time to shampoo and condition your hair system. Follow your regular shampooing and conditioning protocol, but remember to only use products that are specifically designed for hair systems. Keep in mind that you should also do a deep conditioning and allow it to penetrate the hair as long as possible. 5 Step Process to Cleaning a Hair System


Once you've rinsed off the hair system, it's finally time to dry it. Use your towel to dry it and remove any excess water. You can use an air dryer (on a cold setting), but it's not recommended for this particular process. Afterwards, place it on a wig stand or a styrofoam head to air dry. You can use leave-in conditioner or any styling products while it's drying.
Your hair system should now be completely detangled!
Reasons for hair tangling and how to prevent it
Hair tangling is extremely common, but why does it happen and how does one prevent it from happening in the first place?
One reason is the lack of regular maintenance. It's important that you thoroughly wash your hair system at least once every two weeks if not once a week. This will get rid of hair spray residue, wax or any other beauty products that get leftover on the hair which ultimately contributes to any tangles. Additionally, conditioning your hair is equally important as shampooing it as your hair should remain hydrated as much as possible and not dry.


Incorrectly brushing or combing the hair is another factor. If there are a few tangles already, you can create even more tangles by using a non-wide-toothed comb for example rather than going with the easy and quick method mentioned above.


Water hardness level can also be a factor. Particularly in mountainous regions, the water hardness level is especially high which can not only cause tangly hair, but dry, dull and faded colored hair as well. One way to get past this is to invest in a hard water filter for your shower or bath.


Cold, dry winds particularly during the Fall and Winter seasons can also contribute to making your hair dry, brittle and tangly. It can also cause hair static which leads to frizz and tangled up hair. Ways to combat this include regularly conditioning your hair, investing in a silk or satin hat or applying hydrating hair oils on a regular basis.


That said, tangles can also be caused by your choice of hair system. One reason which is slightly unavoidable is if the hair on your system is curly. Curly hair looks great on most, but is high-maintenance and naturally prone to tangling given the shape of the strands.


Another reason is if your hair system has darker colored hair. By nature, darker colored hair is more prone to tangling than lighter colors because it has more cuticles as a result of not needing to bleached as much. As a result, whenever the hair is wet, these cuticles open up and need to be closed. This can be done with an air dryer — and not a blow dryer — with the temperature not being too hot otherwise it will cause damage.

However, another way to close these cuticles is by using an ACV shampoo or conditioner — or any shampoo or conditioner that uses apple cider vinegar which is an easy and effective way to close and tighten the cuticles. The cuticles are smoothed out which reduces frizz and hair tangling as a result. Not to mention, it also helps make the hair appear healthy and shiny. Just make sure the apple cider vinegar product doesn't make contact with the hair knotting area if you have a lace base as this can make the hair slippery and cause hair shedding.


Lastly, over-processing or manufacturer errors could cause damaged and dry hair with the hair breaking easily. In this case, you should either contact the hair system supplier or buy a new hair system.
Hopefully, you are now well-informed about hair tangling, why it happens, how to prevent it and how to detangle your hair system effectively.
----------------------
Interested in learning more about men's toupee hair systems? Browse through our website at www.superhairpieces.com (US & International) or superhairpieces.ca (CAN)
Don't forget tag us at @Superhairpieces and #Superhairpieces on your social media channels to get a shoutout!